Invisalign- The Clear Alternative in Olathe, KS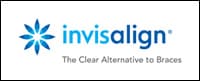 nvisalign's® invisible, removable, and comfortable aligners will give you the beautiful straight teeth you've always wanted.
Best of all, no one can tell you're wearing them. Invisalign® is great for adults and teenagers.
If you would like your teeth straightened but don't want people to see your metal braces, Invisalign is a great alternative.
Ask our Olathe dentists about the benefits of Invisalign and what it can do for you and your smile!
How Does Invisalign® Work?
How Are Aligners Made? You'd Be Amazed...